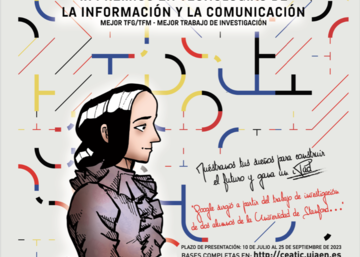 Notice
The deadline for submission of papers is now open.

Target audience
Students of the degrees in Computer Science, Telecommunication Technologies and Telematics, of the master's degrees related to Computer Science and Telecommunications, as well as of the Doctorate Programme in Information and Telecommunication Technologies.
Modalities
Best end-of-studies work (TFG/TFM)
Best work of initiation to research
Prizes
The winning paper in each category will receive an iPad as a prize.
Submission of papers
The deadline for submission of papers will be from 11 July to 26 September 2022 through the electronic form that will be available at https://ceatic.ujaen.es/premios-ada-lovelace/registro. A printed copy of the corresponding entry form must also be submitted through the University of Jaén's registry.

Please consult the complete rules in the attached document.
Related documents